---
---
As my weekend plans were foiled, thanks to an unscrupulous ticket agent in my college neighbourhood, and I stayed back, I had to buy my phone in Siliguri. Good that I was able to rope in gadget guru John-da in my buying expedition. Before anything else, we had a Noboborsho brunch of course. Over Cappuccino and sandwiches (mind it, it was a brunch), we criticised Facebook, among other things. The CCD was quite desolate at noon with 2 elderly ladies sitting in a corner. But just then 4 girls stormed in. College-goers, yes. But not too crass I guess. Anyway, one of the four girls kept staring at me for a long time! We made eye contact more than once and I looked away. Then after a while, again I found her looking at me. I think she was listening to our conversation. A conversation in chaste English is something you don't come by often in Siliguri!
Have we strayed from the topic?! Oh yes, the phone I got myself is an HTC Status aka HTC Chacha. The buying decision came after much deliberation and research that went on for months. It is an android + qwerty phone. As it is, I end up typing a lot on the phone. From sending out a lot of texts and posting witty comments on Facebook to responding to emails, you name it all. Getting a touch phone was a no-brainer. I am absolutely not able to type on them. Android is a very smart choice these days, seconded in features and performance only by Apple iOS. In fact, Android makes Nokia's softwares a joke. Even the Symbian Anna is no match to Android.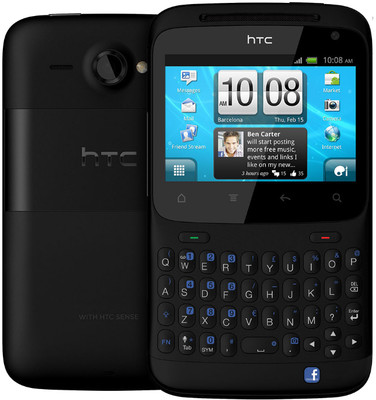 Among Android phones, there are a few qwerty phones to choose from. In fact, the one I got is the only qwerty offering from the HTC stable right now. I got it in black colour. The phone looks good, but there is a lot of unused space between the screen and the keyboard - good thing that this is not so apparent in the black model. What impressed me was the solid build quality. The touch response is fantastic and way better than the Nokia Xpressmusic 5800.
The phone features a dedicated Facebook button! What a shame! Doesn't matter though for I am sure I won't be finding this button much useful. In fact, the first thing I did was turn off the Facebook updates the phone started showing on the homescreen without even asking me. It was pre-set. I turned on the sync for my Google account and while doing so I was hit by a strong déjà vu. (I had a strong recollection of going through exactly similar settings in a dream!) Anyway, I turned the sync on to import Google contacts and Google search history. I was quite surprised when this also activated push mail for Gmail! I din't even have to enter any POP/IMAP settings. Pretty smart, this droid thing. I think I will be able to enjoy my 500 MB 3G data plan finally!
I watched the second episode of Game of Thrones Season 2 on the phone. Downloaded Moboplayer from the Android Marketplace. The video quality was pretty good. I have taken only one photo so far so can't comment much on the camera yet. I am yet to explore the phone well enough - was occupied in a friend's birthday dinner yesterday evening. Also can't start using the phone all out until the screen protector cover and silicon carry case are delivered by Flipkart.
Share This
Related Entries
---